Explore how Ignition helped 6000 customers get paid, save time and grow their revenue in 2022.
show = false, 3000)" class="relative cursor-pointer inline-flex gap-x-2 hover:no-underline group active:bg-transparent decoration-transparent border rounded-full w-12 h-12" title="copy link">
Copied to clipboard.
More than 6,000 accountants, bookkeepers and professional service businesses used Ignition this year. The platform helped them win and retain clients, save time, grow revenue and offer a seamless, professional client experience.
As another year draws to a close, let's look back and reflect on the remarkable achievements of our customers throughout 2022.
Ignition customers got paid almost 2 million times to improve cash flow
Business has boomed this year for Ignition customers!
In 2022, customers got paid over and over again.
More than 1.8 million payment transactions
were processed via Ignition, this year alone.
Ignition customers grew their businesses engaging over 500k clients
In 2022, Ignition customers sparked many relationships, engaging a massive 511,000 clients who accepted more than 660,000 proposals via Ignition.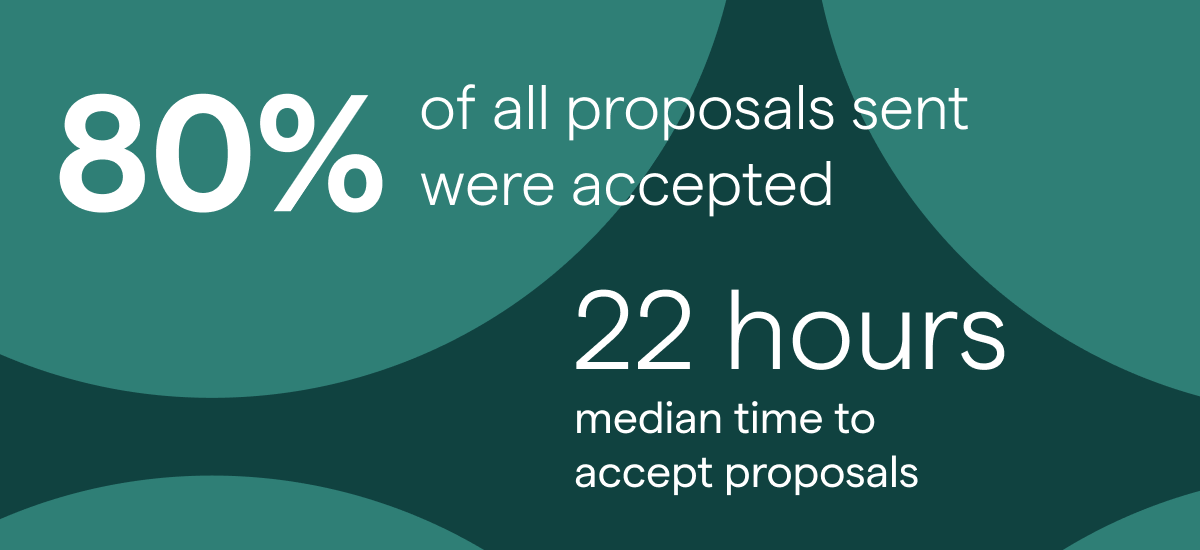 Managing those relationships became even easier this year too, when we introduced a
new centralized pipeline view
. This tool offers teams greater visibility of their proposals across all clients. They can close deals faster and forecast potential revenue more easily.
Ignition customers saved 18+ hours of time each week
We've all been more time-poor than ever, with businesses to run, clients to look after and everyday life to balance.
Thankfully, Ignition customers had more time on their hands for all those commitments. They saved on average over 18 hours per week engaging clients, managing scope changes, and billing, collecting and reconciling payments.
A research study conducted by YouGov on behalf of Ignition found that each week on average, Ignition customers save:
Over 6 hours creating proposals and issuing engagement letters;

Over 9 hours billing, invoicing, collecting and reconciling payments; and

Nearly 3 hours managing changes in agreed scope of work.
Creating and sending a proposal, for example, is so quick and easy. In 2022, the fastest time to create and send a proposal was just 14 seconds. How's that for speed?!
It's even faster when using one of our
80+ proposal and engagement letter templates
.
Ignition's many
integrations
are also a game-changer when it comes to saving time. In 2022, we officially launched
Ignition Smart Billing for Gusto
in the US. By syncing with Gusto in real-time, Ignition automates payroll billing for any service priced on a per employee basis. It also takes the hassle out of bundling Gusto subscriptions.
Ignition customers shared their experiences with thousands from our community
The Ignition
Facebook community
exists to provide a space for customers to inspire, support and share advice with one another. In 2022, we welcomed
more than 500 new community members
– bringing the total to
over 3,500
.
In 2022, we finally saw the return of in-person events. Our Ignitioneers loved meeting with thousands of new and familiar faces at 96 events in the US, Canada, Australia, UK and South Africa.
Not to mention the many attendees who enjoyed learning from peers and experts at 152 Ignition webinars and online events this year, too
But the learning didn't stop there. This year, we were excited to launch the Ignition Certification Program. This is our free, on-demand certification course designed to give Ignition users the skills and confidence to realize the full potential of Ignition within their firm. Learn more about the course here to become an Ignition expert and earn up to 4 hours of verifiable CPD/CPE points.
As always, a community highlight was the annual Women in Accounting Awards.
This year's awards saw 938 total nominations from 8 countries including the US, UK, Australia, South Africa, New Zealand, Cayman Islands and Nigeria.
Of the Top 50, 35 brilliant women were first time winners, and 15 had previously featured in the Top 50.
Huge congratulations to the diverse and inspiring women who made the
Top 50 Women in Accounting 2021
. A round of applause also for all nominees who are driving change and creating opportunities for the next generation of accountants and bookkeepers by breaking down limitations, barriers, discrimination and inequality.
Finally, we couldn't wrap up our Year in Review without mentioning our rebrand. Earlier this year we dropped the 'Practice' from Practice Ignition and
gave Ignition a fresh new look
. This reflects our evolution into a broader client engagement and commerce platform that helps you optimize revenue and spark long-lasting client relationships with ease. We hope you're loving the new look.
What's in store for 2023
It's been a big year for accountants, bookkeepers and professional services businesses all round. That's likely to continue in the coming year with opportunities and challenges facing us all in this uncertain economic climate.
Maintaining cash flow, reducing debt and optimizing revenue will be more important than ever to future-proof your business in 2023.
Ignition will continue to help customers make their businesses more efficient in order to stay profitable. It does this by saving time and costs, and providing ways to secure cash flow and optimize revenue from existing or new clients. We'll continue to invest in our platform and release more new features to help our customers succeed.
We'll also be celebrating Ignition's 10th anniversary in early 2023. It's an exciting milestone and we look forward to sharing more news about it soon. Stay tuned for that and more in the new year.
Join 6,000+ professional services businesses using Ignition with a 14 day free trial.