Take a look at our latest improvements to help you stay in control with greater billing flexibility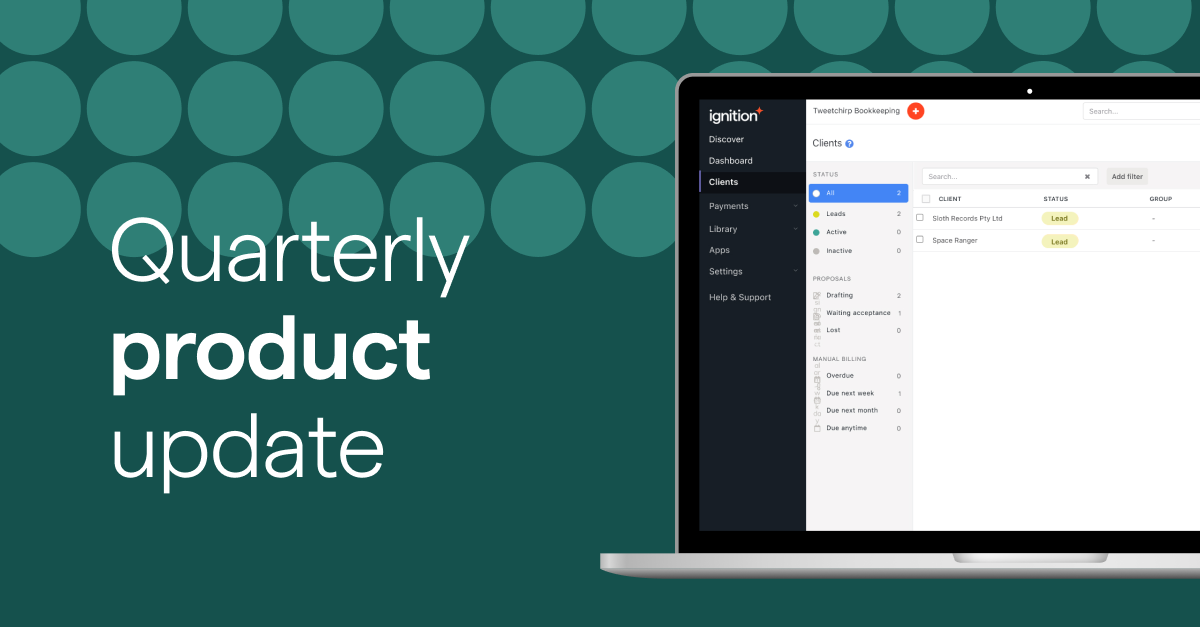 show = false, 3000)" class="relative cursor-pointer inline-flex gap-x-2 hover:no-underline group active:bg-transparent decoration-transparent border rounded-full w-12 h-12" title="copy link">
Copied to clipboard.
By now you've likely seen a lot of fuss about our rebrand to Ignition, the world's first client engagement and commerce platform. We're pretty excited about it. But we're even more excited about all the great work that goes on behind the scenes
making our product better and better for you
, so it's easier for you to do business with your clients. Here are some recent improvements we think you'll love.
Collecting deposits just got easier
Collecting deposits for your services in Ignition is now even easier with our latest update to the New Proposal Editor.
Enjoy greater billing flexibility by accepting a deposit upon acceptance, proposal start date or a future date.
Customize what your client sees by changing the label used for 'deposit' and 'balance' on your proposal to whatever makes most sense to your business and your clients.
Plus, give clients clarity with deposit payments now shown on both the proposal and invoice so your clients will always know what they're being charged for and when.
Once your client accepts your proposal, Ignition collects the deposit payment automatically - so you get paid without lifting a finger.
Collecting a deposit is best practice for accountants, bookkeepers or any professional services business looking to improve cash flow and minimize business risk - especially when engaging new clients.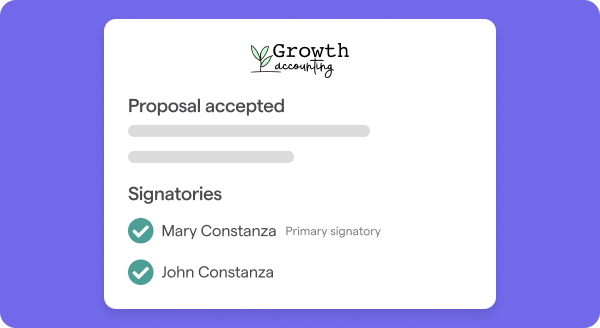 Gain peace of mind with multiple signatures on proposals
In case you missed it last quarter, multi-signature proposals are available for all customers using our New Proposal Editor on a Pro or Scale plan! With multiple signatures, up to ten people can sign a single proposal outlining your engagement terms - ideal for engaging clients with multiple directors or owners in the same company, or couples filing joint tax returns where eligible.
What's more, you can also now
import and export multiple contacts
per client, not just the primary contact, which avoids lots of manual work.
Simplify billings by aligning your billing and proposal start dates
Demonstrate value more clearly with our new quantity feature
Avoid duplicate services and ensure your proposals showcase value in a concise and easy to understand way by using the quantity feature available in our New Proposal Editor.
With quantities, you can provide multiple counts of the same service to your client on services with a fixed or included price type. Easy peasy.
What's coming next?
We're getting ready to release a much anticipated update to our terms editing experience that will make it easier for you to add, edit and format your engagement terms - without needing to know any tricky code. Stay tuned for more on this in the coming days.