Ignition's new features will help you win more business, the way you want to.
show = false, 3000)" class="relative cursor-pointer inline-flex gap-x-2 hover:no-underline group active:bg-transparent decoration-transparent border rounded-full w-12 h-12" title="copy link">
Copied to clipboard.
Every prospect that walks through your virtual or physical door is different. It's important that your sales process can adjust to these differences, so that you can create an exceptional first impression.
That's why Ignition is bringing more flexibility to the way your proposals can be accepted.
Here are some tips on how the new functionality can help boost your client growth!
Create and accept proposals during your sales or scoping meeting
The first step to standing out from your competition is speed of delivery. If you can get a proposal ready to be signed during your sales and scoping meeting, you will drastically exceed your prospects' expectations, particularly compared with the experience they'd have received elsewhere.
Ignition has always had the ability to help you create the proposal in record time, typically eliminating hours from the creation process and allowing you to create a proposal in minutes.
Of course, it's one thing to create the proposal quickly. What about getting that all-important signature? Previously, the only option in Ignition was to send the proposal via email which could potentially slow down acceptance.
With our latest update, you can move the proposal directly into the awaiting acceptance status without having to send it to the client first! Simply open up the proposal accept link and have your client sign your proposal right there in person so you can get started on generating new revenue immediately.
Embed the contract link, anywhere...
Sometimes you want to just send the proposal by email and wait for acceptance. In other circumstances, you might have to go the extra mile to demonstrate the value of what you offer.
Many Ignition firms have a dedicated presentation process that they use with higher-value clients to demonstrate who they are as a brand and the process of working with the practice. This is a highly effective process to ensure the value proposition of the firm is clearly understood upfront and helps move the conversation into the agreement stage.
Once they walk their prospect through this presentation, the next step is to formalize the agreement with a clear proposal of services including scope, fee schedule, payment gateway and engagement terms.
With our new contract links feature, you can now embed your Ignition proposal directly into your presentation ( or virtual brochure, direct email, tweet, Facebook message, client portal…the list is endless!) for a seamless presentation to acceptance flow.
...and by anywhere, we mean anywhere.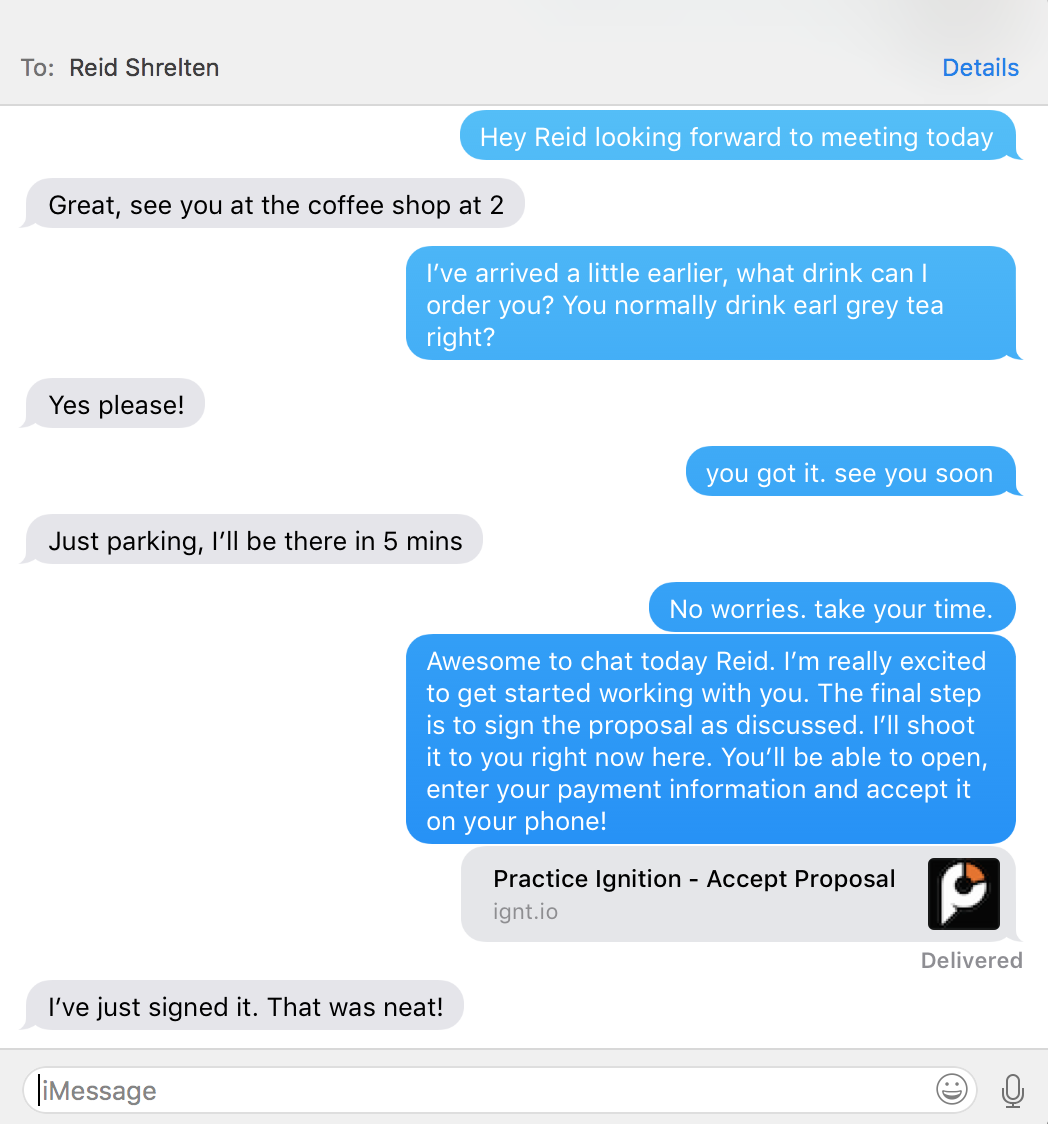 Present multiple service options to your client in a personal email.
Presenting two to three service options is a common sales methodology across many professional services firms. Offering fixed-fee options to your customers is an opportunity to generate additional revenue by presenting tiered service packages with additional line-items.
For example,
Seachange Accounting
based in Australia have three bookkeeping packages that include additional services such as payroll and Accounts Payable services, over and above the basic bookkeeping service.
Using the same contract links feature, you can now create multiple proposals and send each option in a single document or email directly from your email provider, allowing your customers to select the most convenient option for them.
Once the proposal is accepted, you can either delete the alternatives or mark them as lost, which allows you to analyze and test the options that result in a higher conversion rate.
Offer multiple closing options to your client in a personal email.
Another common sales methodology used by professional services firms is to provide multiple closing options to the client. In this scenario, the proposal options include the same services, but the fee schedule changes.
The most common approach is:
Option One: A proposal which shows the fee schedule as an even monthly fee across a 12 month period (plus any upfront payments for one-off starting services).
Option Two: A proposal which shows a discount (typically around 5%) for paying a year's worth of billing upfront, in full.
The benefit is two-sided: The client can pay less simply by paying up front, or have the convenience of even monthly payments. The practitioner can lock in their cash flow for the year in exchange for a slightly smaller amount of total revenue.


Just like the three options process above, you can create the options as separate proposals in Ignition, send them to the client in a single email or embedded as links in a larger sales document and have the client accept the option that works best for them.
Takeaways