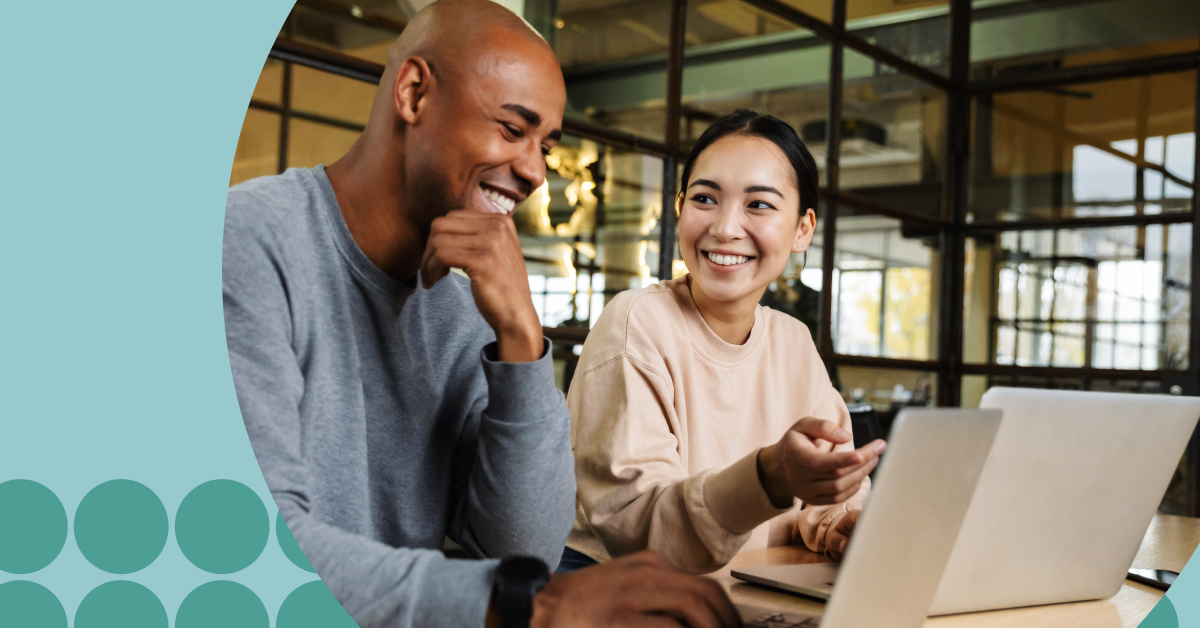 show = false, 3000)" class="relative cursor-pointer inline-flex gap-x-2 hover:no-underline group active:bg-transparent decoration-transparent border rounded-full w-12 h-12" title="copy link">
Copied to clipboard.
Professional services businesses, such as accounting and bookkeeping firms, have high-touch, service-oriented business models. There's a lot of work involved in running these types of companies – from preparing payroll and taxes to producing reports and financial statements.
Because they're so labor-intensive, accounting and bookkeeping practices rely on strong teams to be successful. If you're in this line of work, hiring and recruiting is likely a top priority.
This has become incredibly challenging though, with more workers leaving their jobs. According to 2022 data from the US Chamber of Commerce, the quit rate in the professional and business services industry sits at 3% – which is higher than the national average of 2.7%.
If you're struggling to recruit and retain good employees, it's worth re-evaluating your hiring efforts and ensuring that you're catering to the needs of today's workforce.
"An increasing number of employees are not just looking for a place to work, but rather are seeking a job that works for them… that allows them to bring their full self to work and an even better version of themselves home." - ResearchGate

"An increasing number of employees are not just looking for a place to work, but rather are seeking a job that works for them… that allows them to bring their full self to work and an even better version of themselves home."

- ResearchGate Engaging Today's Workforce: Insights From 25 Years of Research
This article provides data-backed best practices and recommendations to help you do that.
Recruiting and employee retention misconceptions
Before diving into the specific hiring pointers, let's look at the top myths and missteps around employee recruitment and retention.
Latching on to management fads
Management fads are practices implemented in the workplace without actual data to back up their effectiveness. They are often short-lived and adopted simply because they're popular.
Examples include open floor plans and pingpong tables in the workplace.
Like fads in pop culture and fashion, workplace and management fads don't stick around for the long term. Take, for example, the open floor plan, which aimed to increase collaboration but had the opposite effect, decreasing face-to-face interactions by up to 70% according to Harvard research.
There's a reason these things fade: while management fads may seem cool or innovative, they're often executed without any real or deep purpose. Sure, perks such as gym memberships and games in the office are fun, but when they're not connected to a meaningful strategy, the novelty wears off quickly.
Only recruiting when you need to
One of the best ways to reduce the struggle of hiring employees is to make recruitment an ongoing initiative. This means putting your company out there and raising your employer profile even when you don't have open positions.
By continuously marketing your business as a great workplace, leveraging employee referrals and creating an engaging brand presence on social media, you'll put your firm on the radar of potential candidates. That way, when the need for new workers arises, you'll be in an optimal position to succeed.
Thinking that unlimited vacations would work for everyone
The unlimited vacations 'perk' is another example of a management fad – but it deserves its own section in this article simply because of its recent popularity. Research shows that mentions of unlimited time off in Glassdoor reviews increased 75% from pre-pandemic levels.
While there's nothing inherently wrong with giving employees unlimited vacation days, there are some concerns that this policy can have a detrimental effect on employees.
Since the number of days when people can take time off isn't clearly established, workers actually take fewer days off than those in companies without unlimited unpaid time off (UPTO).
As Indeed points out, "Because there is no contractually mandated number of days available, some employees end up taking less than the standard two weeks as they feel uncomfortable declaring their work is done and their schedule is free."
Some companies have now abandoned these policies after finding out that their workers were taking fewer holidays. While a number of companies have seen a positive impact from UPTO and have implemented it successfully, many have struggled to reap the benefits.
Creating a policy for unlimited time off, particularly in industries where overworking and an 'always on' mentality is considered the norm, requires a massive behavior shift that needs to be encouraged and modeled by management to be successful.
What to do instead: 6 tips to attract talent and retain good employees
Now that we've discussed the things that don't work well when recruiting and retaining employees let's take a look at what you can do instead. Here are five strategies to attract and retain talent at your accounting firm.
1. Establish a strong company culture
Company culture – which is defined as an organization's shared values, ideologies, and practices – can make or break your hiring and retention initiatives.
With a positive workplace culture, team members are more likely to feel inspired and have a sense of purpose. Conversely, when your culture isn't defined or fails to resonate with employees, they may feel disconnected from your company, leading to poor performance and higher turnover.
Needless to say, establishing a solid company culture is a must. The first step to doing that is to gain clarity into what your firm stands for. What is the purpose of your business? Who do you serve? What impact do you want to have in the world?
Once you have the answers to these questions, be sure to convey them to your team both in words
and
actions.
2. Be intentional with your hiring process
Your firm's employee experience hinges on your team's collective attitude and disposition. That's why it's imperative to bring in folks who are an excellent cultural fit. When you hire someone who doesn't share your company values, the new person may not feel entirely at ease in the workplace and are thus more likely to leave.
To avoid that, be very intentional with your hiring practices. Evaluate candidates based on their qualifications and cultural fit, so you can fully assess whether or not someone is suitable for the role at your company.
One way to do this is to write carefully considered job listings. Rather than using generic job descriptions, strive to infuse your company's voice into the content. Be clear about the work environment you offer, your values, and what you're looking for in a candidate.
For example, if your firm is big on diversity and inclusion, make sure these values shine through in your listings. Use
socially and culturally-sensitive phrasing
and see to it that your job posting conveys a sense of welcomeness and inclusion.
3. Be competitive with compensation and employee benefits
Multiple studies show that salary is one of the most important factors employees consider when deciding to work or stay at a company. A study by Pew Research Center found that low pay was the top reason workers left a job in 2021.
In recent years, due to a significant talent shortage, the reality has been that businesses have had to offer salaries and benefits that were either on par with or exceeding market benchmarks to secure top talent.
That being said, compensation isn't everything. Salary is undoubtedly crucial to employees, but it's not the only thing they value. Pew Research Center also found that when it comes to reasons for leaving a job, 45% and 43% of workers cited a lack of scheduling flexibility and poor benefits, respectively.
Keep this in mind when putting together offers for candidates. You may not be able to match the highest pay in the market, but you could offer better health insurance, and more flexibility, for example by enabling workers to choose their hours and where they work from.
4. Help reduce employee stress levels and put an end to awkward client conversations
Difficult conversations are a cornerstone of professional services, but research shows accountants and bookkeepers often avoid them.
The State of client engagement report by Ignition found that unrecovered out of scope work (also called scope creep) costs accounting and bookkeeping companies an average of $76,636 in the United States every year (£69,957 in the United Kingdom, and $102,778 in Australia).
The cost of putting off awkward conversations with clients, especially over out of scope work, unbilled hours and late payments also has a human cost.
Ignition's research shows that large numbers of accountants and bookkeepers (40% in the US; 43% in Australia, and 33% in the UK) said their mental health and that of their team's has suffered as a result of avoiding or delaying awkward client conversations.
By embracing new ways of working and technology, accountants and bookkeepers can automate and transform how they run their business and engage clients to put an end to awkward client conversations.
5. Show compassion and promote a healthy work/life balance
Research by Glint (a LinkedIn company) found that when employees feel their manager cares about them, they are 3.2 times more likely to be happier at work and 3.7 times more likely to recommend working for their company. This goes to show just how important compassion is in the workplace. Strive to show your employees that you care about their well-being and ensure each team member feels supported.
A good way to do this is to promote a healthy work/life balance. It helps to regularly evaluate your team's workload and ensure they're taking on reasonable amounts of work and have realistic targets. In some cases, it makes sense to adjust their workload and KPIs based on seasonality. Many accounting firms see a slowdown right after tax season. So in this instance, it's reasonable to set your business targets accordingly.
Another way to improve work/life balance is by equipping employees with tools that make their jobs easier. Efficient systems can build your team's confidence and boost morale. Just ask Chris Brown, Founder and Managing Director at the accounting firm Brown & Co. He says tasks such as following up with clients, requesting information, and collecting payments used to be awkward and time-time consuming.
"[An awkward client situation] drags the whole team down. It has such a negative impact on the team's morale… it essentially devalues the work that the team is doing," he recalls.
Chris Brown and his team decided to implement Ignition to automate client engagement, document requests, and billing tasks. In doing so, Brown & Co's team members were able to streamline their client processes and be more productive.
"The Ignition platform has brought confidence into the team when engaging clients, and having less awkward conversations is positively impacting our team culture. It's so easy to send proposals out to the client, have them sign it off, and get the cash flow benefits," says Chris Brown.
6. Offer continuous learning and development opportunities
Offering learning and development (L&D) opportunities can help improve employee retention. A study by The Conference Board found that 96% of workers say it's important for them to enhance their work skills continuously. The survey also highlighted the importance of development opportunities for employee retention, especially with women, people of color and younger generations.
Depending on your organization, investing in your team's L&D can look a little different. Common examples include:
Using online learning platforms and encouraging team members to take courses.

Designing in-house training programs.

Sending employees to industry conferences so they can learn more about trends and best practices in the field.

Hiring experts to conduct training or seminars for your employees.
Aside from enabling workers to hone their skills, learning opportunities give them a sense of growth and accomplishment, which can lead to increased job satisfaction and improved performance.
Over to you
The job market may be more competitive these days, but it's still possible to build a thriving and motivated team. If you're looking to attract and retain talent, start by evaluating your practices to ensure that you're meeting the needs of modern candidates and employees.

It also helps to equip your team with tools that make their work lives much easier by improving efficiency and eliminating unproductive, time-consuming processes. Watch a demo of Ignition today and see why thousands of accountants use our client and engagement platform to help run their firms more efficiently.