show = false, 3000)" class="relative cursor-pointer inline-flex gap-x-2 hover:no-underline group active:bg-transparent decoration-transparent border rounded-full w-12 h-12" title="copy link">
Copied to clipboard.
Video's not going anywhere. From education to entertainment, it's no secret that it's often the preferred method of content consumption. On average, we each watch 17 hours of online video every week. In today's digital age, video is the all-powerful must-have tool for companies to communicate with their clients and prospects. And for professional services providers, it can be genuinely transformative for your client engagements and proposals.
Key takeaways
Read on to find out:
How to include videos in your proposals and client engagements to enhance communication and engagement.

How to create effective customer onboarding videos for personalized experiences and to stronger client relationships.

How Ignition can seamlessly incorporate video into company communications, improving overall performance.

How to leverage the power of video to impress customers, accelerate deal closures, and achieve business goals.
So, let's dive in and explore how you can leverage the power of video to wow your customers, close deals faster, and achieve your business goals.
Why is video important?
With today's business landscape rapidly evolving, video has emerged as a driving force. As a 2023 report from industry-leading firm Wyzowl shows, a staggering 91% of businesses have embraced video as a marketing tool in 2023. It's not only marketing professionals making use of this trend; businesses across sectors are acknowledging the profound impact of video on customer engagement.
The investment of time in crafting persuasive video content doesn't have to be onerous and, with readily available resources and technologies, creating professional-grade videos also needn't break the bank.
A wealth of user-friendly, cost-effective tools and platforms has emerged that streamline video production, editing, and distribution. You no longer need a large production budget or a team of professionals to create high-quality video content.
Platforms like
Loom
, reduce the complexity and expertise required to produce video content, and allow you to quickly and easily create shareable content.
Reimagining proposals: The rise of the video proposal
Typically, video proposals are a great way to bring authenticity and personality to your client proposals, enabling you to showcase your services in a more attention-grabbing way.
It's a great way to capture your clients' attention quickly and efficiently. You can tailor your video content to specific clientele, showcasing your depth of knowledge about their industry and business needs. Videos can help clients understand your service packages and what differentiates you from your competitors in a crowded market.
Video also allows you to convey non-verbal cues, including tone of voice and body language, such as hand gestures and facial expressions, which can enhance the impact of the message you're communicating.
And video communications provide a more convenient way for clients to consume information, because they can easily access it from anywhere, on any device, and at any time. If you can't meet face-to-face with a client, it can help you bridge that gap and create a personal connection. It's a chance for you to introduce yourself, showcase your team, and highlight your unique selling points.
It also allows you to convey complex ideas in a manner that's engaging and that clients can easily digest and watch time and again, if they need to. It also provides an opportunity to showcase the personality of your brand.
With the use of visuals, music, and storytelling, you can create videos that not only inform, but also emotionally connect with your audience. By doing so, you build trust and rapport, which is crucial in any business relationship.
Should I include videos in my proposal?
So, the answer is a resounding 'yes' for professional services providers who want to engage their clients and close deals faster. It's true: embedding videos into your proposals can yield significant results. According to Wyzowl, 86% of marketers use video as a marketing tactic, with (78%) saying it's directly helped to increase sales.
If you're looking to grow your client base for example, adding a video that plays at the start of your proposal is an eye-catching way to:
Introduce prospective clients to your company.

Showcase your service options and convey the tangible value you provide.

Let your prospects know how to view and sign their contract or engagement letter.

Address any frequently asked questions about your services.
With Ignition, you can create a personalized proposal that includes a Loom video from right inside the platform. Ignition empowers professional services businesses to get paid faster and run smarter by automating and optimizing proposals, agreements, billing, payment collection and workflows – all in one platform.
When you create a Loom in Ignition, you have the option to configure the way you capture videos in several different ways, including showing your face and the screen simultaneously, or turning the camera off and showing only the screen. The latter option is great if you're not that comfortable being on screen or you want to focus attention exclusively on the information you want to convey.
Using customer onboarding videos to create a positive first impression
You can also use video for customer onboarding to welcome your new clients to the business, introduce your services, explain how you'll be working together, and to even demonstrate how tasks will be achieved.
Onboarding videos can help clients quickly realize the value of your services, which can help to increase your retention rates.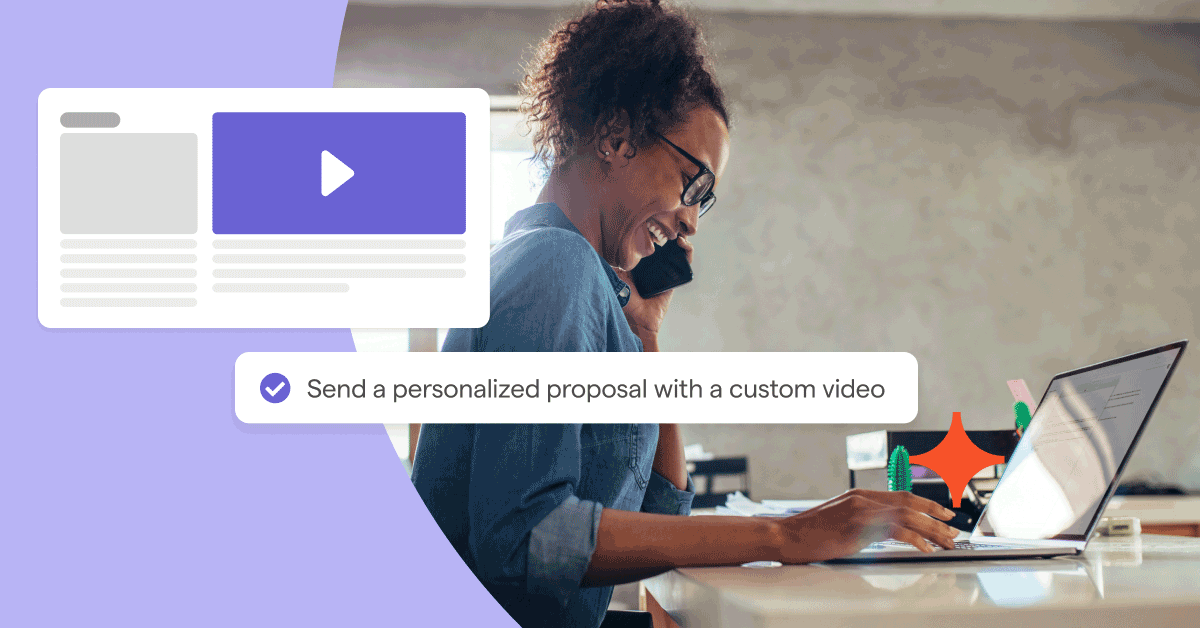 Nurturing existing clients using video to reinforce the value you provide
Video isn't just for new client acquisition though. It's also a robust tool for nurturing your existing client relationships. A renewal of your contract or client engagement – or a change in the services you provide – is the perfect opportunity to thank your client for their continued business and support. It's also an opportunity for you to grow the relationship by suggesting additional ways you could add value to their business.
By adding a personalized recording at the start of your proposal, you can:
Recap recent successes.

Outline new services your firm is offering and convey why you're making the change.

Suggest a service that may benefit them.

Advise them of any important changes to your business since their last contract or letter of engagement.
Alternatively, sending a video after your client accepts your proposal is a great way to thank them for their continued business and to show them how much you value the relationship.
Creating customer videos to wow your clients
With each potential client in your sights, making client videos that knock their socks off can help set the tone for your relationship. By giving them a visual and audible taste of what working with you will look like, and you can help them understand what to expect and how you operate.
Before you start your video project, here are some helpful tips and tricks for creating videos that leave a lasting impression on your new clients.
Identify your target audience by defining your ICP
The greater your understanding of your target audience, the more clearly you'll be able to speak directly to their pain points. Defining your ideal customer profile (ICP) can also ensure you're choosing clients to work with, who are the best fit for your business, which can be key to business growth.
So, before creating our client video, be sure that you've considered these questions about your would-be client:
What industry do they (i.e. your ideal customer) operate in?

Where are they based?

What is their annual revenue?

What is their budget for accounting services?

Do they need one-off solutions or ongoing support?

What solutions are they most likely to buy?

What are their biggest pain points?

How can your solution help?

What are their corporate values?

What technology do they use?

How many employees do they have?

How large is their customer base
What message do you want to convey?
Figure out the main point you want your clients to take away from your video and keep your messaging succinct and to the point. This is purely about showing them the experience of working with you. You can get into the finer details later.
With that in mind, keep it short and sweet – approximately two minutes is the recommended video length to keep your viewer's attention.
Consider how you want to come across. Do you want to be perceived as friendly and approachable or more professional and formal? The tone of your video should match the tone of your brand.
Also think about whether you can speak naturally on camera, without sticking to a script. This can be challenging, but it can make your video that much more authentic. If you do want to use a script,
generative AI tools such as ChatGPT
can be used to create one quickly, simply by entering the length of time you would like the script to be, if it were read aloud, and stating key points you want to include.
Pay attention to production quality
If you really want to impress your customers, production quality matters. So, it's important to think about the points below, plus your vocal tone, facial expressions, and hand gestures, which can all combine to create an overall impression.
Invest in a quality microphone
Video is a wonderfully visual tool, but the experience of sound really impacts viewers, too. Clean, crisp audio can make all the difference and makes it easy for clients to hear and understand you. You don't need to spend a fortune on studio-quality microphones, but a good lapel or USB microphone helps capture your voice and can reduce echoes and background noise.
Consider lighting – it really does make a difference
Make sure you have plenty of light shining toward your face. Invest in lighting, such as a ring light, and film near a source of natural light. Avoid filming under downlights or harsh fluorescent lighting, because this can hollow out your eye sockets and make you look tired.
Create a Loom or use your phone to record your video
If you're making individual videos for each business proposal, you really want to create your video quickly. You have a few options, such as using Loom (as we mentioned earlier) to make a recording on your laptop or phone. Or, you could use your phone/camera to record a video and upload it to platforms, such as YouTube or Vimeo, and then embed it in your proposal by simply retrieving the URL.
Now, you're ready to record. Finally, use these four tips to ensure you sound like your authentic self.
Tip 1: Loosen up and relax
Try to loosen all the tension from your body. When you feel anxious, your body tenses, and that affects your body language and also your voice. So stand up, jump up and down, stretch your arms and legs, and shake out that tension.
Tip 2: Shake off any brain fog
If you're sitting at your desk and your brain fogs, this exercise can help: look down, count to five, look at the camera, and speak immediately. Don't give your brain time to worry about it.
Tip 3: Be clear in your own mind about the points you want to convey
Our brains can generally easily remember three things. Bullet point the three points you want to get across in your video. A script is great for more detailed videos with technical content, but the risk with short client videos is that you end up reading to the camera rather than speaking to the camera.
Tip 4: Think about your audience
Remember who you're talking to. Visualize your clients. The lens is a barrier that can create distance. Break through that by genuinely speaking to the person watching the video. Bring the emotion into it that you would feel if you were sitting right in front of them.
Over to you
Incorporating video into your proposals is a great way for you to bring authenticity and personality to your proposal, and create a more personalized experience for your clients.
See how Ignition can help create proposals in minutes and take your business to the next level with video-based communications.